I could write the handbook on 100 easy ways to stress yourself out and spin in circles all day. However, at one point last week between baby breathing treatments, and a homework project I was able to complete my tree. I looked like hell all week, and I can't remember much of it, but the tree is done. DRUMROLL PLEASE.....
This is the finished product. It is my "Santa's Circus" tree.
I'm so busy right now with officially TWO sick children that I'm just gonna list some good tips for making a great tree.
mix "over the top" large ornaments with small ones.
cover all spaces with pretty/sparkly ribbon
use WIRE MESH for ribbon or wreaths if you can find it. It's cheap and you can't screw up.....it just looks good!
use lots of floral bling too.
and spruce up last years ornaments with some HOLOGRAPHIC GLITTER.
Here are some detailed photos
OODLES of crazy, wild floral on the top and coming out of the star.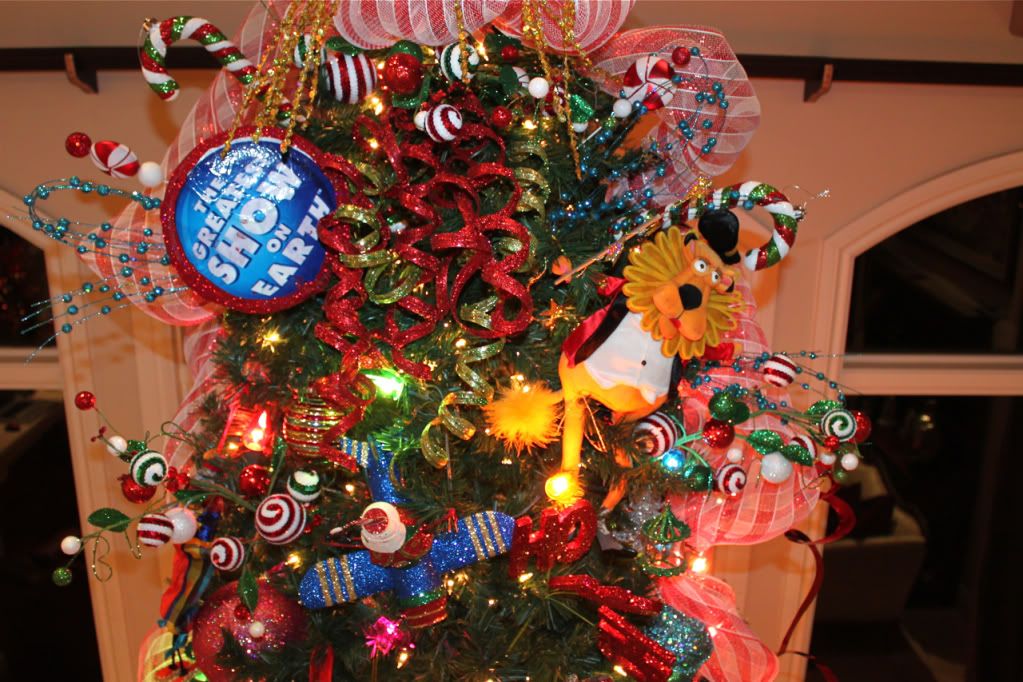 Do you see my lion the "Ring Master" and the Circus "Greatest Show..." I made??
Looking up at the tree. I confess, I was playing like a kid. To your left you will see little elf acrobats I hang from the ceiling like they are flying into the tree. It's a circus....like my life!
Larger View.....It's all Circus! Everywhere!
I made this floral arrangement out of styrofoam holographic glittered balls, and put them into a beautiful circus train I bought years ago.
I just went completely nuts, and made my favorite christmas circus arrangement.
More details if I ever come out of these sleepless nights, and sick children fog. :)
xoxo Murtle